Friday night at Bryant park Thisday/African Fashion Collective show tooklplace featuring four African designers, Stoned Cherrie(South Africa) , Tiffany Amber(Nigeria) , Momo(Nigeria) and XULY.Bët (Mali/Paris) modeled by models from different parts of the world . Among the models who walked Thisday/African Fashion Collective were Supermodel Alel Wek from Sudan, Chanel Iman (USA), Millen Magese from Tanzania, Behati from Namibia, Sessilie Lopez (USA), Oluchi from Nigeria, Gety and Liya Kibede both from Ethiopia, Lakshim from India and only one male model, Tyson Beckford from USA just to mention a few. The show began with Grace Jone's black and white video singing about eating flesh
Xuly Bet's collection featured contemporary sportswear in denim, corduroy suits, big fuzzy coats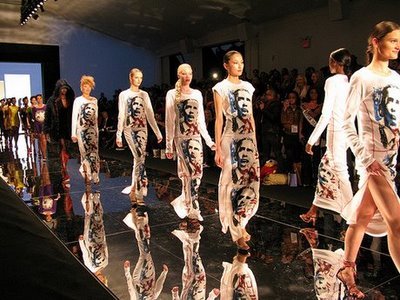 and maxi-length T- shirt dresses printed with President Obama's smiling face..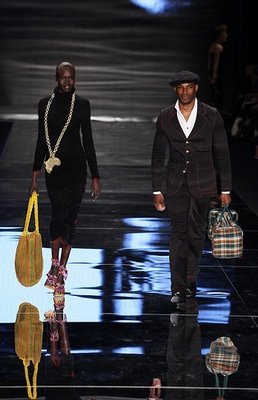 Model Alek Wek from Sudan walked down the runway alongside Tyson Beckford, the most celebrated black American male model of Jamaican descent .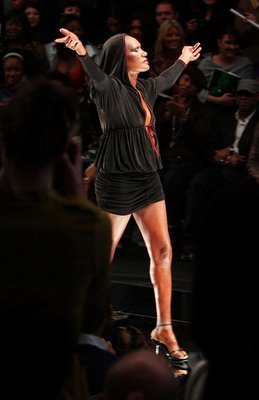 The biggest surprise was when the living legend, 60-year-old model-turned-singer Grace Jones stomped down the runway for designer XULY Bet looking mighty fierce in a one piece black mini hoodie dress.


Stoned Cherrie's collection was a combination of light wools, silks and bespoke woven jacquards. Models walked down the runway, some in beautiful blouson chiffon -sleeved shirts with ruffles detailing, others in leathered pencil skirts, colorful stocking,

and Alek Wek who wore an orange silk chiffon flowing gown with stone embelishment around the neckline closed the show for Stoned Cherrie.


Tiffany Amber's collection featured heavy shantung silk slips, Irish linen coats mixed with traditional 'Ankara' fabrics, with intricate shell and bead embroidery.

I must admit this collection was my favorite collection by far. The whole collection was modern and sexy.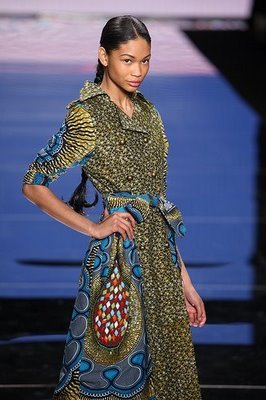 I also couldn't take my eyes off the Ankara Trench coat with beaded embroidery worn by Chanel Iman. I must have it!

And Momo's collection featured animal prints patterns such as zebra, leopard, giraffe printed on hand-woven taffeta, cashmere and metallic silk. The girls walked down the runway each one wearing a hat which almost hid there eyes.
All the clothes were so fabulous and the girls looked so amazing.There was an after party at the Plaza with a special appearance by Solange Knowles, but I couldnt go because I was not feeling well. But I did get a chance to talk to my favorite models, Sessilee Lopez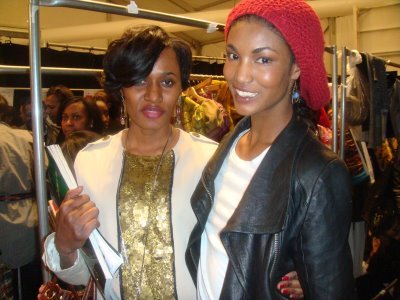 and Liya Kebede who were kind enough to pose for pictures with me (love them!)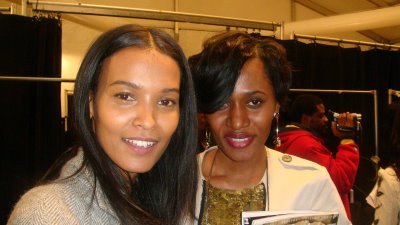 Can you tell from the pictures how sick I was??? I am still getting my rest hopeful by tomorrow I will feel well enough to hit the tents! I missed a couple of shows today! But I am so happy that I was able to attend this particular fashion show on Friday .
photos and photos