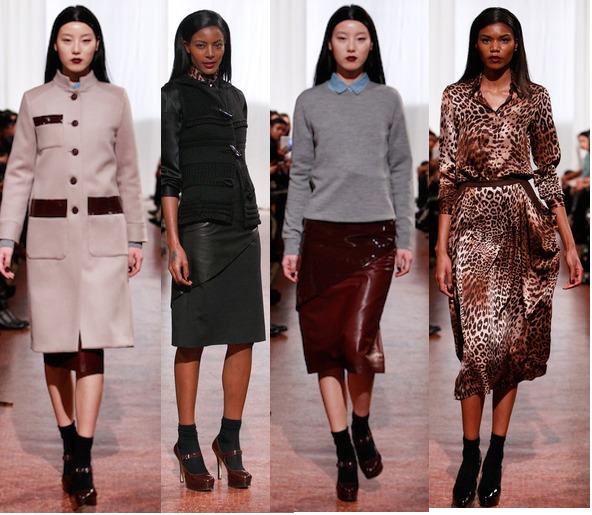 Catching up slowly on New York Fashion Week posts. So I was lucky enough to have a sneak peek of Mataano new Fall 2013 few days before it's debut on the runway. And oh boy, I was so amazed with the duo's new direction on this collection. Knowing them and having being a huge fan of their designs, it was absolutely refreshing to see these girls get outside their comfort zone. It was very unexpected, a little dark yet with so much rich texture.
" ....we wanted to broaden our scope and push the brand in an assertive direction", said the designers on their flier that handed out to guests at the show. The new collection is all about power dressing with edginess to it. Animal print, silk dresses and blouses, knits, faux fur and tailored pieces were all presented on the runway. Interesting pieces like wool coats with patent leather details on the pockets and the bordeaux leather pencil skirt with asymmetrical patent leather piece insert over it were eye catching. There were a lot of great separates which are easily wearable and guaranteed to give the Mataano woman the confidence she needs to control her own destiny.
Above are my top four looks from the collection.
Images: Getty Images
FYI: Fashionjunkii is going through a transition. Please bear with us while we fix things around here. Thank you